What is Mobile Mining or Cloud Mining?
The process that we currently call Mobile Mining (soon to be known as and replaced by Cloud Mining) is the activity of rewarding users with free ETN every month. Users are able to mine up to $3 USD worth of ETN each and every month, which can be stored or spent with any retailer that accepts ETN. If you haven't already opted into Cloud Mining, you should update to the latest version of the Electroneum App and activate the cloud mining process. In the near future this will be the only route by which you will be able to continue In-App Mining.
For many in the developing world, where monthly income is often less than $50 per month, an additional $3 per month can make a significant difference to their daily lives, allowing them to have a little more each day.
Cryptocurrencies reward "miners" for running the blockchain. Rather than the ETN all being earned by a handful of users with warehouses of powerful computers, we distribute an ETN reward to users of our free app.
By giving users an ongoing reward, we have achieved the fastest viral growth of any cryptocurrency. As our ecosystem expands globally, we aim to be the largest cryptocurrency by user number in the world.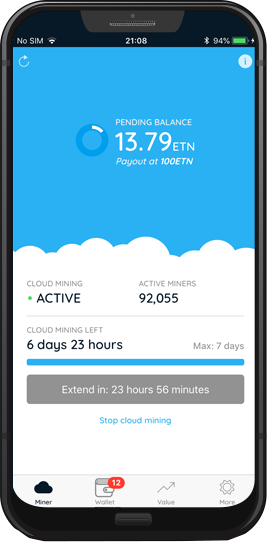 ---
In 2018, Electroneum (ETN) became the world's first cryptocurrency to incorporate a mobile mining experience.